Leading The Hi-Tech Way With Water Treatment Transformation
Leading The Hi-Tech Way With Water Treatment Transformation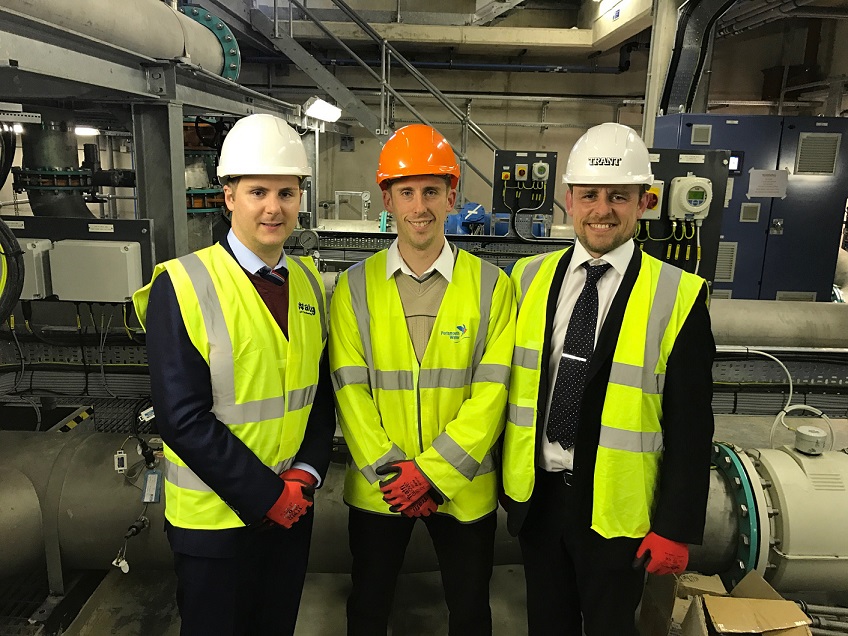 June 23, 2017
JOB WELL DONE: From left, Barry Hopton, Municipal Business Manager at atg UV Technology Ltd, James Baker, a Project Manager for Portsmouth Water, and David Martin, a Senior Mechanical Design Engineer at Trant Engineering. They are pictured inside the new UV treatment facility at Farlington Water Treatment Works, Portsmouth, Hampshire.
A 14-month project to upgrade technology at a water treatment facility for 280,000 people in southern England is close to completion following successful design, installation and commissioning.
Portsmouth Water's membrane filtration plant at Farlington Water Treatment Works was installed in 2003 as the only viable approved process by the Drinking Water Inspectorate (DWI) to remove harmful cryptosporidium oocysts from filtered water prior to entering service reservoirs.
Trant Engineering was tasked with replacing membrane filters, which were coming to the end of their serviceable lifespan, in the membrane filter building with ultra-violet (UV) technology whilst ensuring the existing membrane plant operated without interruption.
UV disinfection is a fast, non-chemical method of destroying microscopic parasites such as cryptosporidium.
The Institute of Water, a professional body which supports the careers of people in the UK water sector, organised with Portsmouth Water a presentation about the on-site implementation of UV technology to safely treat the public water supply.
As part of the presentation, attended by 30 water industry professionals, Guy Franklin, a DWI Inspector, spoke about the increase in UV technology at water treatment plants across the UK and findings from various DWI audits.
A British leader in the design and manufacture of UV systems, atg UV Technology Ltd, supplied the irradiation equipment; Barry Hopton, the company's Municipal Business Manager, explained UV technology and the selection and sizing of Farlington's UV reactors.
Principal contractor Trant Engineering, a process engineering specialist in Britain's water industry, demonstrated details of the project.
Three-dimensional animation
Trant Engineering's David Martin, IEng MIMechE, Senior Mechanical Design Engineer and M&E Supervisor on site at Farlington, used three-dimensional animation to 'walk' delegates through the process of transformation.
He said afterwards: "This was an excellent opportunity for Trant Engineering to showcase its in-house design engineering and installation capabilities in front of 30 water industry professionals.
"We carried out the detailed design in-house for the process, mechanical, electrical and instrumentation control and automation aspects. We were also responsible for the civil, mechanical and electrical installation and commissioning.
"Crucially, everything we did with the design, procurement, and construction phases support Portsmouth Water's aim to improve operating and capital maintenance efficiencies by adding value engineering, which resulted in programme reduction and reduced TOTEX [total expenditure]."
Integration
Trant Systems Electrical, part of Trant Engineering, provided the design, manufacturing, installation and software commissioning of a new UV instrumentation control and automation section, with modifications to an existing motor control center.
Existing assets were reutilised where possible.
David, an Incorporated Engineer and member of the Institution of Mechanical Engineers, said: "By working closely with all parties including the manufacturers, suppliers, subcontractors, but most importantly the client, we were able to integrate the new UV plant into the existing membrane facility whilst ensuring there were no interruptions to treatment."
In addition to UV integration, Trant Engineering delivered an additional wastewater recirculation facility to recycle backwash and sample water (washwater) as part of the same contract, with concurrent installation to that of the UV.
The solids contained within the washwater are separated using lamellas, with the clear liquid returned to the head of the works, and the solids thickened and then dewatered using a centrifuge.
This is a relatively new process to Portsmouth Water. David explained: "The whole separation, thickening and dewatering process has been designed in a manner that achieves maximum automation and therefore minimises the need for operator intervention."
He added: "We are now coming to the end of this 14-month project, ready to hand over to Portsmouth Water, having delivered safely, on time and within budget."
Site tour
The event was followed by a fact-finding tour of the treatment works, which dates back to 1909 and is supplied by what is believed to be the largest spring source in Europe.
James Baker, a Project Manager at Farlington for Portsmouth Water, led the tour.
Trant Engineering, headquartered near Southampton, is a multi-disciplinary contractor which carries out a diverse range of projects in sectors which help drive the British economy – power and transmission, civil engineering and mechanical and electrical engineering, petrochemical and pharmaceutical.
Contract locations include the Channel Islands, Ascension Island and Falkland Islands, as well as across the UK.
Trant Engineering, founded in 1958, has successfully grown and employs 1,000 people, with turnover targeted at up to £140 million per annum.