Fab Four's Combined Century of Loyal Service
Fab Four's Combined Century of Loyal Service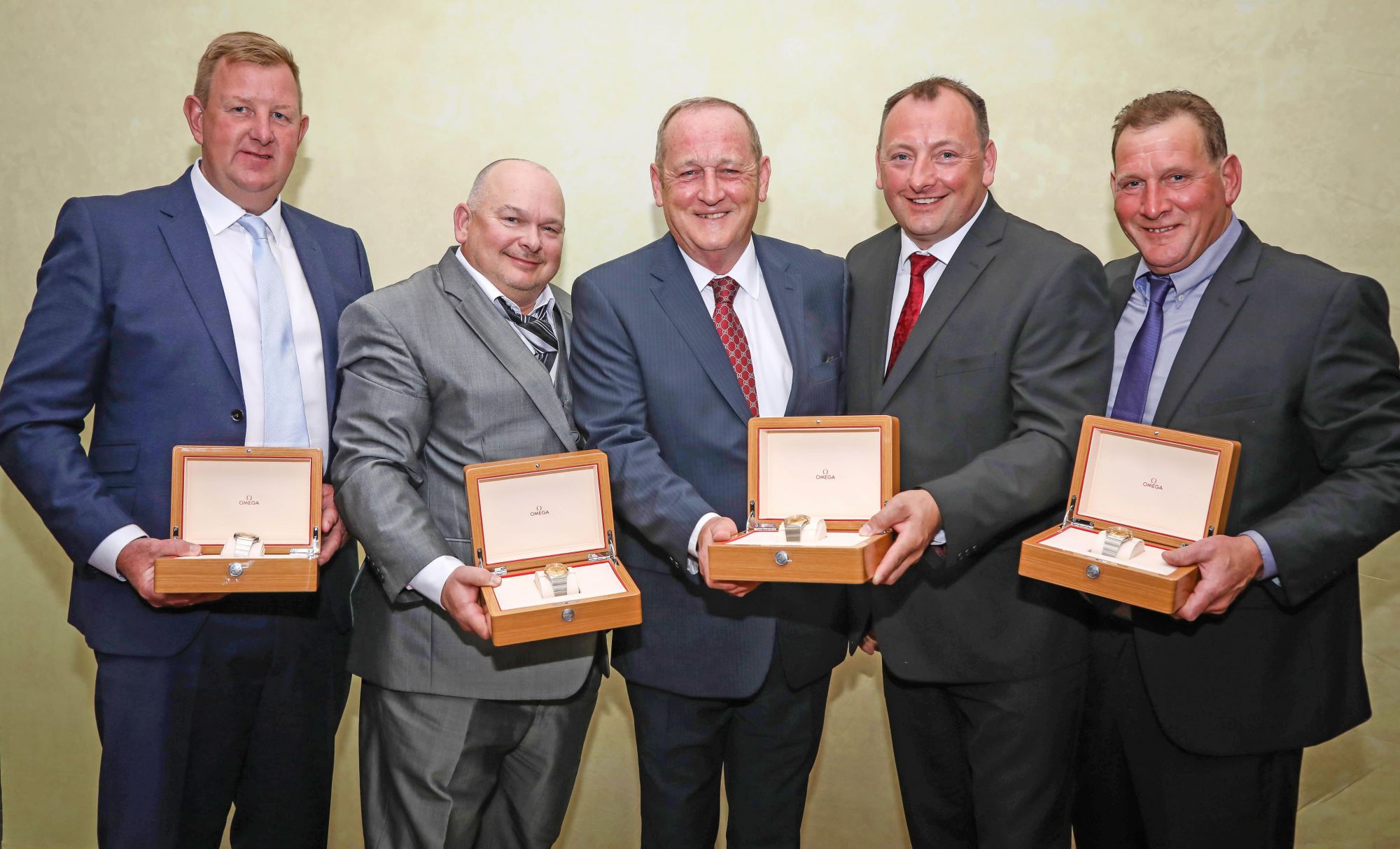 May 15, 2019
Four staff at Trant Engineering have had their loyalty officially recognised in the roll of honour for 25-year service.
The 'Fab Four' of Darren Bishop, Pete Boyt, Tom Lee and Darren Milam join 132 other employees who have received the milestone accolades at the multi-disciplinary contractor, now in its 61st year.
Darren Bishop project manages contracts for Guernsey Water and Guernsey Electric, Pete works on maintenance at Fawley Refinery, the UK's largest oil refinery in the UK, Tom is a works supervisor in the energy sector and Darren Milam is a carpenter at the refinery.
Two other colleagues, machine driver Les Dyke and Declan Hayes, Director of Guernsey Operations, joined 19 other employees with 40 years' service each. Les, left, and Declan, right, are pictured with Chairman Patrick Trant.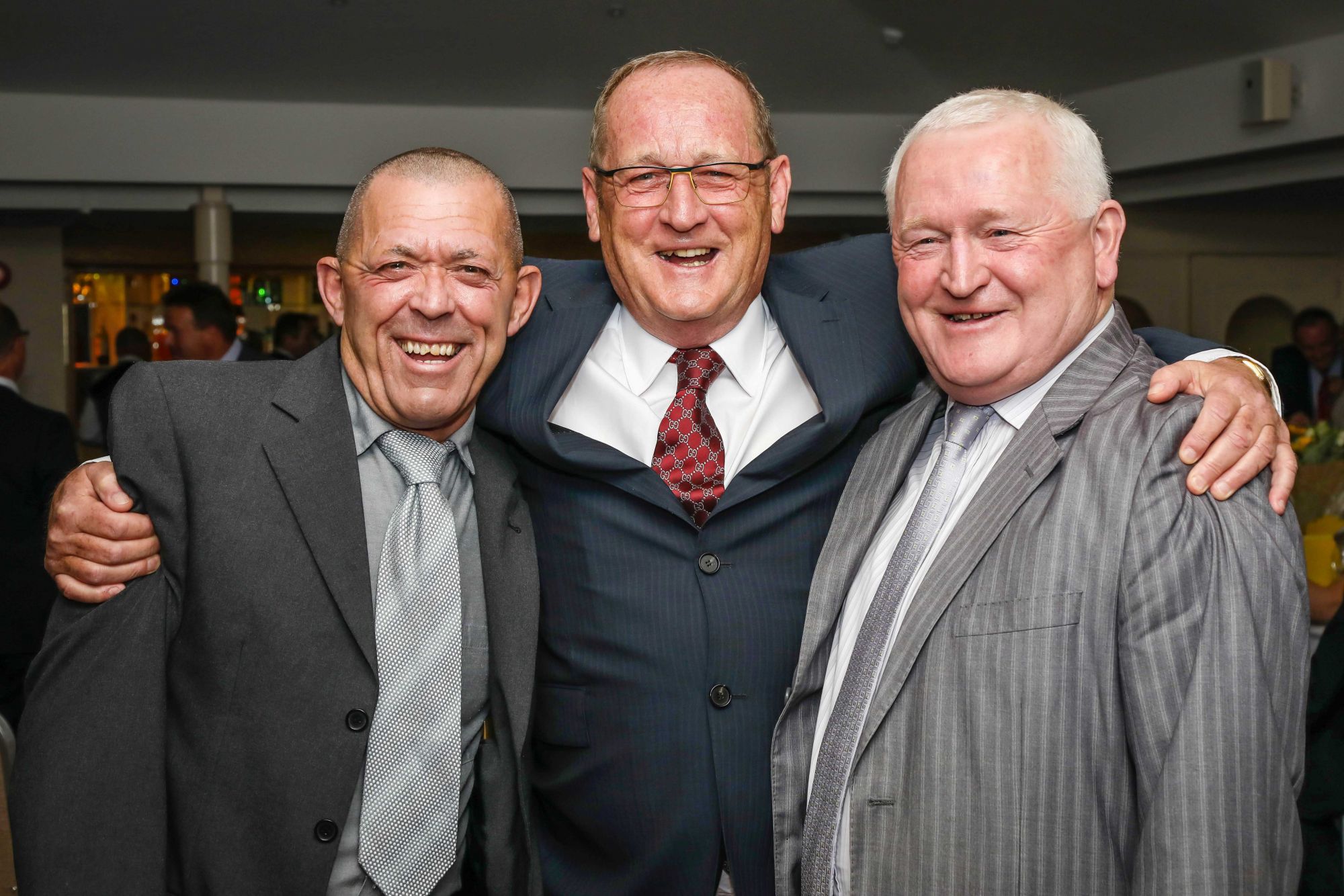 A further four members of staff were praised for 30 years' service to date – international secretary Di Butterton, management accounts Johanne Pooley, administrator (Fawley Refinery) Paula Wells and Nikki Pullen, PA to Chairman Patrick Trant.
Premier League for service
Praise was also given by Patrick to senior operative Bob Coady, who retires this month after 36 years.
Patrick told 150 colleagues and guests at the annual awards dinner that long-service records at Trant Engineering, which has 1,100 staff, must be among the highest in the UK for the industry.
To loud applause, he stated: "I've said it before but we must be at top of the Premier League for service and loyalty – champions.
"Long service awards are an accreditation that especially represents loyalty, talent and faith in the business and I express my utmost appreciation to all previous recipients gathered here and those unable to be here."
Design and build contract awards
Headquartered at Rushingon, near Southampton, Trant Engineering has a projected turnover of £150 million.
The business operates in the UK and overseas in heavily regulated industries, with design and build contract awards from clients such as ExxonMobil, Ministry of Defence, National Grid, Southern Water and Wessex Water.
Patrick said: "Our sectors Water, Oil and Gas, Energy and CAPEX International remain buoyant, fully supported by our in-house civil, mechanical and electrical design team, which is focused to deliver our current and future projects.
"In the last year our off-site manufacturing facility [at Trant Engineering's headquarters] has made real progress, gaining creditability with our clients and increasing the company's engineering appeal."
That was the year when...
Recipients of the 25-year service awards started work with Trant in 1994, the year that the Channel Tunnel opened, Amazon was founded and a mere 300,000 people in the UK out of nearly 58 million had access to the infant internet compared to 9 out of 10 households these days.
Tribute was also paid by the Chairman to Warren Holmes, an employee who received a commendation earlier this year from the High Sherriff of Hampshire for apprehending a handbag snatcher.
Special mention was also given to Damian Nunn, who was named Outstanding Apprentice of the Year in the National Construction College Awards, ahead of 2,432 apprentices across the country.
"You can be the best"
Patrick quoted what Damian had said after receiving the national accolade: "Trant Engineering has an inspirational commitment to workplace training and development – this kind of backing and support made me even more determined to repay their faith in taking a chance on me.
"The apprenticeship has transformed me – I had been pigeon-holed at secondary education as someone who wouldn't do much with my life. It took Trant Engineering to come along and tell me: 'You can be the best'."
Patrick added: "Our continued and improved investment in technical and skills upgrading is paramount to our future and I find much satisfaction when our staff young and older achieve their accreditations."
Staff and guests also heard from the Chairman how the company was recently honoured with first place in the business UK digitalisation awards for technology and innovation.
Technology and innovation
Judges stated: "It is a large, family business that for a number of years has seen technology and innovation as a way to set itself apart.
"A business that has developed a market-leading virtual reality offering customers to 'step into' a newly designed scheme before even breaking ground, and has transformed and digitalised its project management and document management systems."
Trant Engineering's 2019 awards event was held at the Best Western Chilworth Manor Hotel, Chilworth, near Southampton, with entertainment provided by professional singer Samantha Laurilla.
More on the 25-year award recipients:
Darren Bishop, who joined Trant via the Exeter office, project manages contracts for Guernsey Water and Guernsey Electric, having first gone to the island in 1997 for a 16-week contract.
Patrick said: "Darren's progression is well deserved and his training record in truly extensive and impressive – no wonder his progression has taken place. To quote Declan, 'you are a credit to the company and, more importantly, a credit to yourself'."
Pete Boyt has worked at Fawley Refinery, the UK's largest oil refinery in the UK, for 25 years and is presently working on the Nalco Maintenance Term Contract.
Patrick said: "To repeat praise from Andrew Rawstron, Pete is one of those guys who gets stuck in to whatever job is given him. He is always busy and takes ownership of what he's doing. He gets on with things in a reliable manner, cares about what his doing and does it safely."
Tom Lee is a works supervisor in the energy sector, which has clients such as National Grid, and is multi-skilled with Class I HGV licence, excavator, forklift and dumper tickets.
He joined Trant by pure chance, having called into the company's Evesham site compound for some topsoil – and left without the topsoil but with a job following a chat with site manager Tony Austin!
Patrick said: "In the words of Ali Parker, Tom is a very honest man who tells you how it is - he definitely doesn't pull his punches and puts 100% into everything he does and inspires his peers to do the same."
Darren Milam begun as a second fix carpenter at Fawley Refinery and it was "soon obvious, he was an excellent, productive and versatile carpenter", going on to large and small civil engineering works as well.
Patrick said: "This versatility made him a very popular carpenter in high demand across the business. He has spent the majority of his time in Fawley, with spells at Esso Research Centre in Abingdon, Ely Lilly in Basingstoke and the Exxon Terminals at Heathrow, Hythe and Purfleet. In the words of Sean Ashman, Darren is a 'top man, a proper chippy who takes a lot of pride in what he does'."