Gold Membership - Supply Chain Sustainability School
Gold Membership - Supply Chain Sustainablity School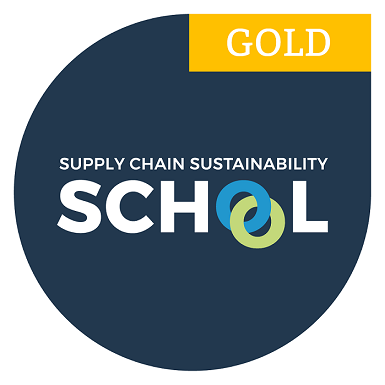 January 20, 2021
Achieving Gold Membership to the Supply Chain Sustainability School is a fantastic way to start what promises to be an exciting year for our Environmental Management Programme. 
By holding this level of membership, we are able to demonstrate that we are actively engaging with the sustainability agenda; contributing towards an ever-improving industry, tackling the climate crisis with unashamed levels of ambition and determination. 
In recognition that delivering improvements to our internal environmental performance requires an integrated approach, employees through different functions and workstreams of the business sit at the Company Environmental Forum on a quarterly basis. Our Environmental Forum team have all signed up to the Supply Chain Sustainability School where they can make use of a number of helpful resources relevant to their area of expertise. E Learning, training resources, and in particular knowledge sharing forums, will help ensure that best in class methods to deliver sustainable construction are considered within our team. 
As a business we recognise that driving ever more sustainable operations is crucial for our continued success. Alongside other environmental accreditations that we hold, Gold Membership to the Supply Chain Sustainability School acts as a hallmark of our commitment to improve.
We look forward to our continued membership and intend to work collaboratively with the school in order to deliver our progressive environmental objectives in 2021 and beyond.