Inflatable Fun Run Sees Money Raised For Flutterby Fund
Inflatable Fun Run Sees Money Raised For Flutterby Fund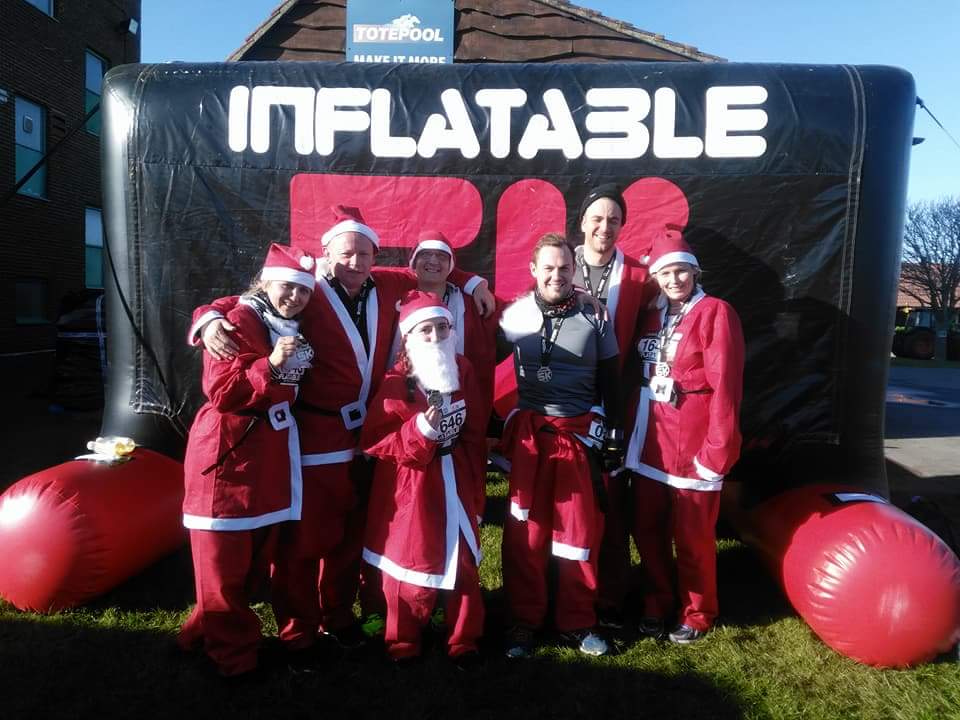 December 18, 2017
Children at a specialist therapy treatment centre in Hampshire are to benefit from the madcap exploits of seven staff at an engineering firm in Southampton.
With bounces and leaps, the Trant Engineering employees in Santa Claus costumes tackled 10 giant inflatable obstacles in 30 minutes.
Their side-splitting fun antics in the 5K Santa Run at Brighton Racecourse raised more than £2,000 for the Flutterby Fund.
The donations mean that physically and mentally impaired youngsters, from low-income families across the country, can receive therapy.
Therapies, which aren't available on the NHS, take place at Sophia's House, a specialist treatment clinic in Bursledon, near Southampton.
Steve Gray, Contracts Manager at Trant Engineering, the multi-disciplinary contractor working across the UK and internationally and employing 1,000 people, took part.
He said: "It was a hilarious event and I found myself being rolled up quite a few of the obstacles – none of us realised quite the toll it would take on the legs!
"There was a serious side to the event, with more than £2,000 raised by us for the Flutterby Fund, a cause close to our hearts through a colleague's daughter."
Various fundraisers for the fund have taken place this year with support from Trant Engineering, which celebrates its 60th anniversary in 2018.
Earlier this summer £8,235 was raised at the Flutterby Ball, held at the Ageas Bowl near Southampton, and £10,000 was generated in a charity soccer match, held at Southampton FC's stadium, between Trant Engineering and R&M Electrical Group.
Trant Engineering's Santa Run participants: Charlotte Bullen (COINS Manager), Eamon Connolly (Project Manager), Steve Cross (Electrical Manager, Fawley), Jess Dawes (Assistant Quantity Surveyor), Terry Elstone (Quantity Surveyor), Steve Gray (Contracts Manager) and Dean Heaphy (Contract Manager).