New headset offers vision for the future
New headset offers vision for the future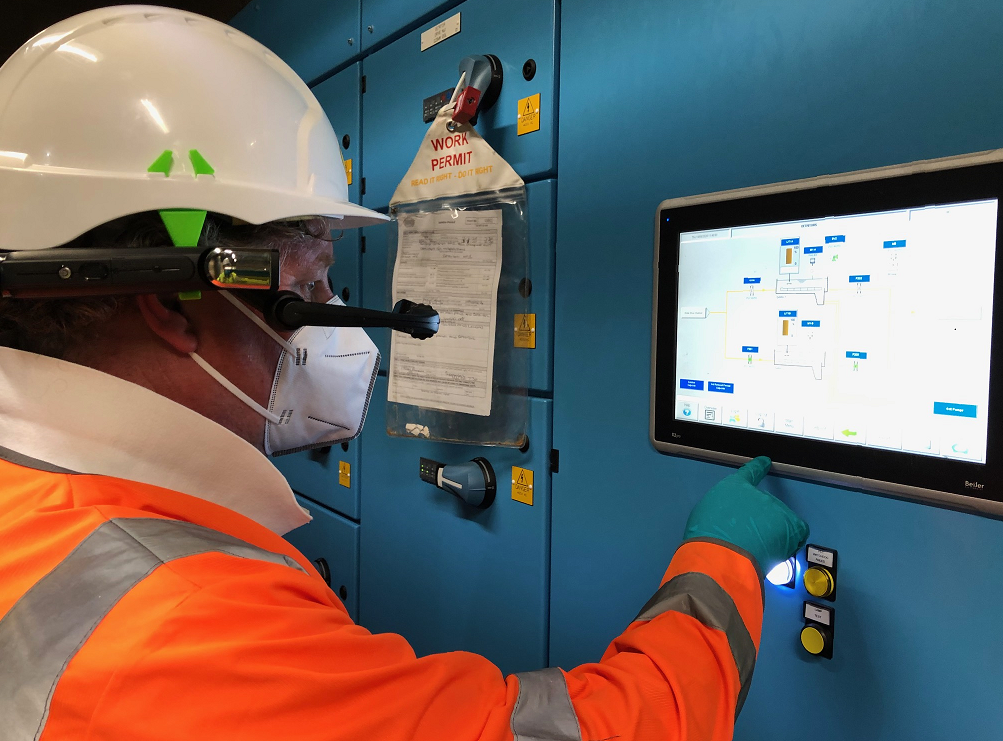 November 02, 2020
An innovative and now key piece of equipment came into its own for our Project Delivery Team during the company's work at Weir Wood reservoir.
The intelligent, interactive headset - keyed into Microsoft Teams - deployed by its field-based engineers had paid dividends for both us and our client Southern Water alike, said our Business Development and Innovation Manager, Ashton Dewey.
"At Weir Wood water supply facility, it enabled us to complete a very time-pressured project working with an integrated design team, but without them actually needing to visit the site.
"That delivered significant benefits for both us and the client. Less resources were required in that less staff needed to be despatched to site, which resulted in a direct cost saving for Southern Water."
On wastewater and water supply facilities, Trant's engineers use the headset primarily while scoping and trouble-shooting, and during onsite progress meetings in relation to design and delivery.
Containing a high-resolution camera and a small, app-based screen, it allows them to talk in real time with colleagues who could be anywhere on the planet.
"The big advantage it has over, say, using a GoPro camera linked to a mobile device is that it is voice-activated and therefore can be used hands-free.
"We have designed our own app for the headset in partnership with our US based colleagues to integrate with our water industry work management system which, because it interfaces seamlessly with Microsoft Teams, allows staff working on site to have the full support of office staff in real time."
That meant instead of having to send perhaps three or four engineers to scope out a project, just one or two were needed to stream images and information back to the office.
"It's a two-way conversation," said Ranjith, "so the person watching in the office can send the headset-wearer to get more images or visit another part of the site, if need be.
"As soon as we found this headset, we knew it fitted our requirements for onsite jobs."
Our IT team were busy writing the specific software necessary to roll the headset out for use across the health and safety arena too, he added. There, the hands-free aspect would be a particular boon, as would the anti-sparking protection that had been added.
Again, the key focus would be the integration of the headset with Trant's centralised information system.
Ashton confirmed, "Use of the headset is being ramped up, we'll be using it more and more in the future."
That seamless interface with Microsoft Teams gave the headset tremendous functionality and flexibility, he said. "If you are scoping and problem solving, you tend not to know in advance exactly what is going to be needed, so this interface between engineers and technicians maximises the chance of a first-time fix.
"That in turn reduces the need for repeat visits and, crucially, maximises the asset 'up' time in an asset-intensive industry such as water."
The timing of the headset's introduction had been fortuitous, given the exigencies of Covid-19, but we had had its eye on another global emergency at the point of commissioning.
"The ability to record video and voice can reduce presence on site, generating time and cost savings that lead to improved performance, greater efficiency and, perhaps most importantly of all, a smaller carbon footprint," said Ashton.
The fact the headset was capable of hosting bespoke applications had ultimately sealed the deal. Its use could, indeed, be extended across any number and type of projects.
He said: "It used to be that businesses in the construction and engineering sectors couldn't function efficiently remotely - we have had to innovate to survive.
"We had to find a way to maintain business continuity while keeping our workforce safe, and this intelligent headset is one solution – it is a smarter way of working."