Raiders of the Lost Robots
Raiders of the Lost Robots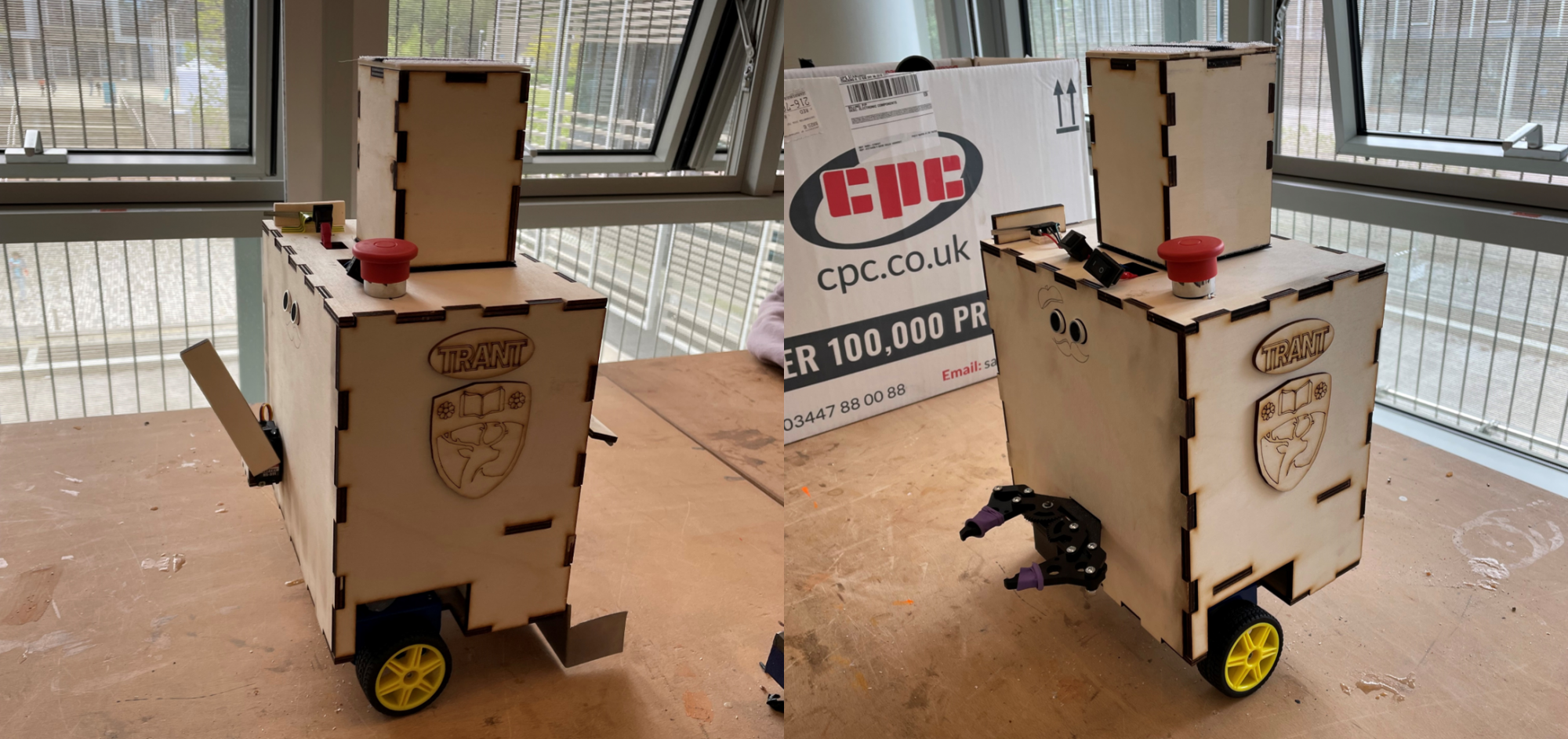 July 13, 2022
A team sponsored by Trant Engineering showed their technical prowess in the UK finals of the fiercely contested EurobotOpen 2022 competition.
The 'Roombaguettes', comprising mechanical and aerospace engineers from the University of Southampton, designed and built two autonomous robots for the event.
The robot was programmed to read varying degrees of resistance in order to excavate squares, hidden treasures and sacred statues. Retrieved objects were then stored in a work shed before being displayed in a museum, the robots then had to return to base.
Crucial to functionality was the robots' potentiometer arms, used as position sensors.
Held on campus at the University of Southampton, the competition was entitled Age of Bots and the Roombaguettes comprised Sophie Butel, Eleanor Grey, Molly Lewis, Rosie Reed and Liam Veness.
Molly Lewis, a mechanical engineering undergraduate at the University of Southampton, said: "We were the only majority female team competing in the UK final.
"We appreciated the sponsorship from Trant Engineering beyond the financial benefit – the company was really enthusiastic to sponsor the team and Trant Engineering are committed to support women in engineering."
She added: "It was a fun and highly technical challenge, with a variety of robots from 13 teams searching the ruins of an ancient robotic civilisation in order to find unearth fragments of their past.
"Our team, which came 6th, made two robots to deal with the set tasks and we are grateful to Trant Engineering for providing us with an equipment fund to buy essential kit, such as grabbers, which we laser cut first, and wheels.
"We approached various engineering companies and Trant Engineering came back to us quickly with the offer of support. As our robots performed their tasks, we felt like proud parents!"
Brendan Dowd, Business Development Director, Trant Engineering, said: "All credit to Molly and her team for imagining, designing and manufacturing the search-and-retrieval robots.
"We jumped at the chance to support the next-generation of mechanical engineers. It is vital that our industry supports technology, innovation and women in engineering – the competition was an active learning process for all of the teams as they put their knowledge to practical use.
"What is also impressive is that the participants could not use an off-the-shelf chassis or rolling base for the robots – everything had to be made bespoke."
The competition winner was the Sherbot Holmes team.