Trant Engineers Gain Success from Trant Professional Forum
Trant Engineers Gain Success from Trant Professionals Forum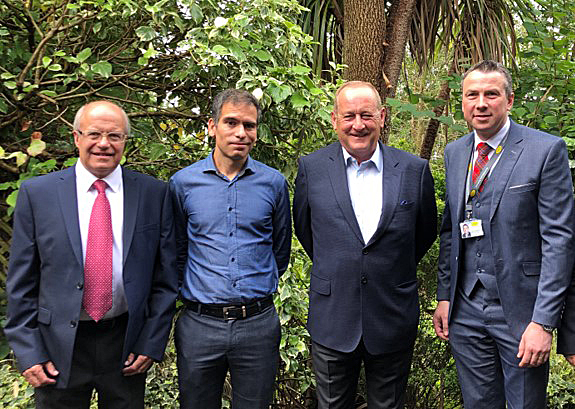 October 29, 2019
Two engineers involved in complex infrastructure projects around the world have passed their professional reviews with flying colours at Trant Engineering.
Miguel Ayuso received his Institution of Civil Engineers (ICE) Chartership and David Chambers his Institution of Engineering and Technology (IET) Chartership.
They are among 170 members on the independent firm's Professional Register.
Miguel and David came through the highly successful Trant Professionals Forum, established to develop next-generation engineers.
Professional excellence
The forum involves mentoring, regular meetings, reports, presentations, training and assessments.
Professional reviews, for candidates and professionally-qualified staff, are held five times a year.
Employing 1,000 staff and headquartered near Southampton, Trant Engineering operates in heavily regulated industries where skills and on-going training are essential.
Sectors include energy, water and process, oil and gas, defence, marine and nuclear.
Exacting standards
Patrick Trant, Chairman, said: "Trant Engineering recognises that all areas of our business need qualified staff to operate effectively for both the company and multi-national clients with exacting standards.
"Backed by professional qualifications and accreditations, we are providing solutions excellence in engineering and innovation – with industry awards testament to the great work our engineers do, often in challenging environments.
"I would like to personally congratulate the two engineers for their considerable achievements in a rigorous field – they have completed their professional review with flying colours."
Special tribute was also paid by the Chairman to Mike Hedges, Supervising Civil Engineer (SCE) for Trant Engineering's ICE Training Scheme.
Dedication and commitment
Mike worked for Trant Engineering from March 2009 until December 2015, having previously been at Portsmouth Water as Manager - Planning and Capital Works.
Patrick said: "Mike's  dedication and commitment to the SCE role went above and beyond what was expected.
"He has been enthusiastic and passionate about providing the opportunities for the civil engineers working within Trant to achieve their full professional potential, whether that be as an Engineering Technician (Eng.Tech), Incorporated Engineer (I.Eng) or Chartered Engineer (C.Eng).
"His calm and methodical demeanour and approach to mentoring has been invaluable - Mike was able to persuade developing engineers to believe in themselves and their abilities."
Working tirelessly
Patrick continued: "He worked tirelessly to help Trant's developing engineers, often giving up his time in the evenings and weekends mentoring the engineers.   
"Mike has been a regular attendee at the Trant Professional Forum Breakfasts, helping to highlight, showcase and encourage developing engineers to attain their professional qualifications.
"Mike had a 100% success rate in helping Trant's developing engineers attain their professional qualifications and he should be immensely proud of this achievement."
Of the Trant Engineering staff on its Professional Register, professional institutions include engineering, surveying, accounting, commercial management, quality assurance, health and safety and environmental management.
Engineering disciplines
Their expertise is required across a range of engineering disciplines where Trant Engineering specialises – civil, mechanical and electrical, instrumentation, control and automation and software system integration.
Contract locations include the Channel Islands, Ascension Island, Falkland Islands and Nepal, as well as across the UK.
Two key aims of the Trant Professional Forum:
·  To raise the profile of the company's engineering capacity, including in-house design and professional status, within the marketplace in order to maintain its frontier position and ensure robustness and sustainability going forward.
 ·  To recognise and further promote an individual's professional development by providing support and encouragement to pursue professional accreditations. Whether or not staff are from an academic or "time-served" background, they can benefit from achieving recognition from their appropriate Professional Institution.