Industry Award for Civil Engineering Technician Adam
Industry Award for Civil Engineering Technician Adam Reilly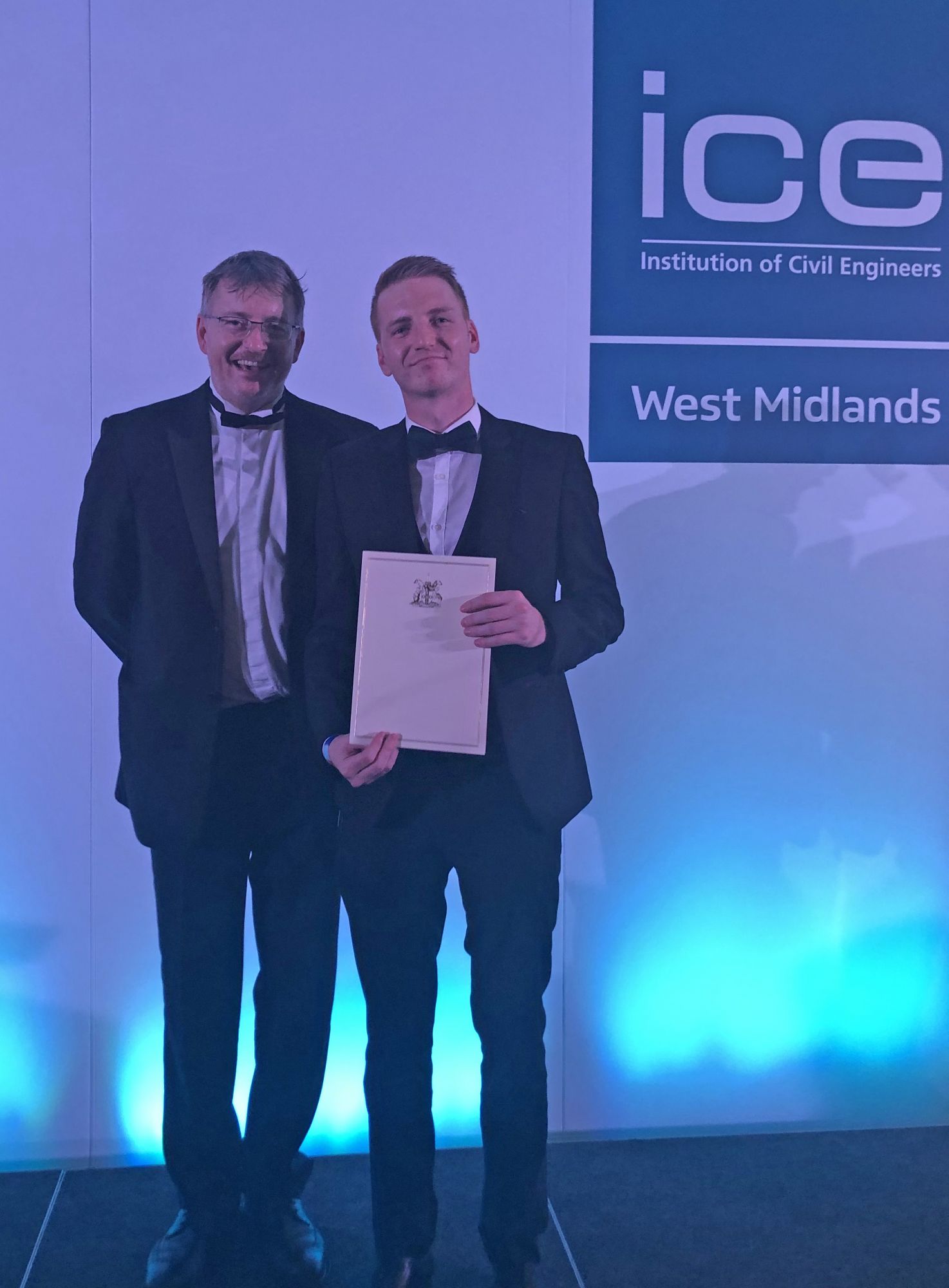 May 28, 2019
They put their technological know-how to work on a wide range of complex construction projects, from waterworks and oil refineries to power stations and offshore structures.
Now a civil engineering technician at Trant Engineering has been praised by a professional membership body for his role in providing technical support to civil engineering colleagues.
Adam Reilly was honoured with Technician Award from the Institution of Civil Engineering (ICE) West Midlands.
The annual awards recognise excellence and innovation in civil engineering across the 'Midlands Engine', celebrating successes of teams and individuals and showcasing their infrastructure achievements.
Held at the Macdonald Burlington Hotel in Birmingham, the black-tie event highlights the benefits of civil engineering to society.
Adam works for Trant Engineering, in the energy sector, four days a week whilst on a four-year Incorporated Engineer (IEng) degree course at Coventry University. On completion of his degree he will then work towards Chartership status.
He was one of three to be bestowed with the Technician Award – and being named on the night came as a surprise to Adam.
"I didn't know the university had put me forward for this until the ICE invited me, two weeks beforehand, to the annual awards. You can imagine my reaction when my name was called out!"
Adam, a design co-ordinator at the multi-disciplinary contractor, received the award from Ed McCann, ICE Vice President.
Alistair Parker, Director, Energy, Trant Engineering, said: "Adam thoroughly deserves the ICE West Midlands Technician Award – it is industry recognition of outstanding achievement in working and studying towards civil engineering technician status."
Adam's role as an engineering technician for Trant Engineering includes:
Tracking the project deliverables; liaising with the internal and external design teams
Updating and tracking the design programme
Managing change
Updating and tracking procurement using the procurement schedule
Constructability liaison between the design team and Project Manager
Providing technical assistance to project teams
In its 201st year, ICE is a professional membership body for 92,000 civil engineer members, providing professional qualifications, training, learning, knowledge and career development.
Headquartered near Southampton, and working in the UK and internationally, Trant Engineering employs 1,100 people and has a projected turnover of £150 million.
Established 61 years ago, the independent firm operates in heavily regulated industries such as energy, water and process, oil and gas, defence, marine and nuclear decommissioning.
Clients include the Ministry of Defence, National Grid, Southern Water and Wessex Water.
In May, Trant Engineering celebrated four staff with a century of service between them, taking the total number of 25-year service award recipients at the company to a record 164.
Earlier this year Damian Nunn was named Outstanding Apprentice of the Year in the National Construction College Awards, ahead of 2,432 apprentices across the country.
Trant Engineering was also recently honoured with first place in the business UK digitalisation awards for technology and innovation in project management and document management.
Virtual reality is used so clients can digitally walk through three-dimensional structures, seeing every single detail, however intricate.