New Link Span Proves More For Ship To Shore
New Link Span Proves More For Ship To Shore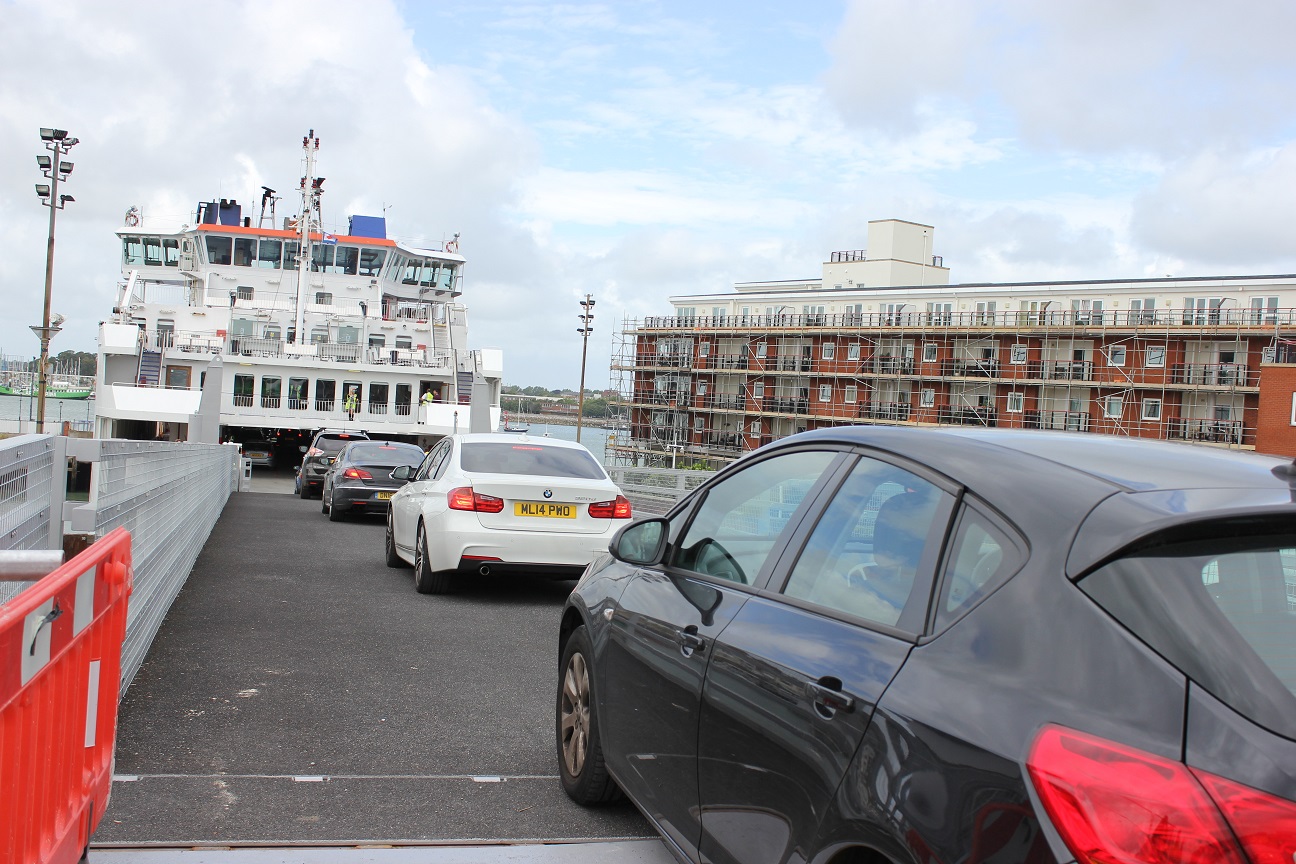 October 20, 2017
TRAFFIC FLOW: The new linkspan for Wightlink at its Portsmouth Gunwharf car ferry terminal following infrastructure works by Trant Engineering.
Trant Engineering has played a key role in improving punctuality at one of Britain's busiest car ferry services.
Wightlink invested £45 million in route enhancements between its car ferry terminals at Portsmouth Gunwharf and Fishbourne, Isle of Wight.
The improvement programme included modifications to both ports to allow for simultaneous double-deck loading.
Cars and small vans embark and disembark from the upper deck of Wightlink's largest vessel St Clare, while larger vehicles, such as HGVs and coaches, use the lower deck.
The works have been completed in good time for the arrival of Wightlink's new ship Victoria of Wight, due in summer 2018. Loading of Wightlink's other car ferries on this route continue to use the lower deck only.
According to Wightlink, the boarding ramps installed by Trant Engineering have reduced turnaround time to 15 minutes on St Clare and, thanks to the two-tier system, ferry staff can load and unload more efficiently.
Wightlink's Project Director John Burrows said: "The work at our terminals has seen improved customer facilities, quicker and quieter loading and unloading, and has reduced traffic congestion.
"The introduction of a second tier of boarding lanes at Portsmouth will have a particularly positive effect on reducing traffic and improving road safety for pedestrians in and around the harbour and in the city centre."
Trant Engineering was selected to carry out the linkspan work in a competitive tendering process, which included design.
Up to 70 construction workers were on site at Portsmouth Gunwharf and a further 30 at Fishbourne during the nine-month project.
MacGregor, which provides engineering solutions and services to the global maritime industry, installed the tailor-made linkspan.
As part of the wider improvement works, multi-disciplinary contractor Trant Engineering is currently building a three-storey Customer Experience Building at Portsmouth Gunwharf terminal.
Due for completion in November 2017, Wightlink's building will have a ticket office, passenger seating area, offices and refreshments.
Jerry Burch, senior project manager at Trant Engineering, said: "The linkspan infrastructure work was challenging at times because it was a condition of the contract that we worked around customers and the general public and did not disrupt the ferry services.
"The custom-made linkspan is optimising traffic flow for Wightlink, regardless of tidal conditions and ferry trim."