Trant Engineering's Water Treatment Process Expertise
Trant Engineering's Water Treatment Process Expertise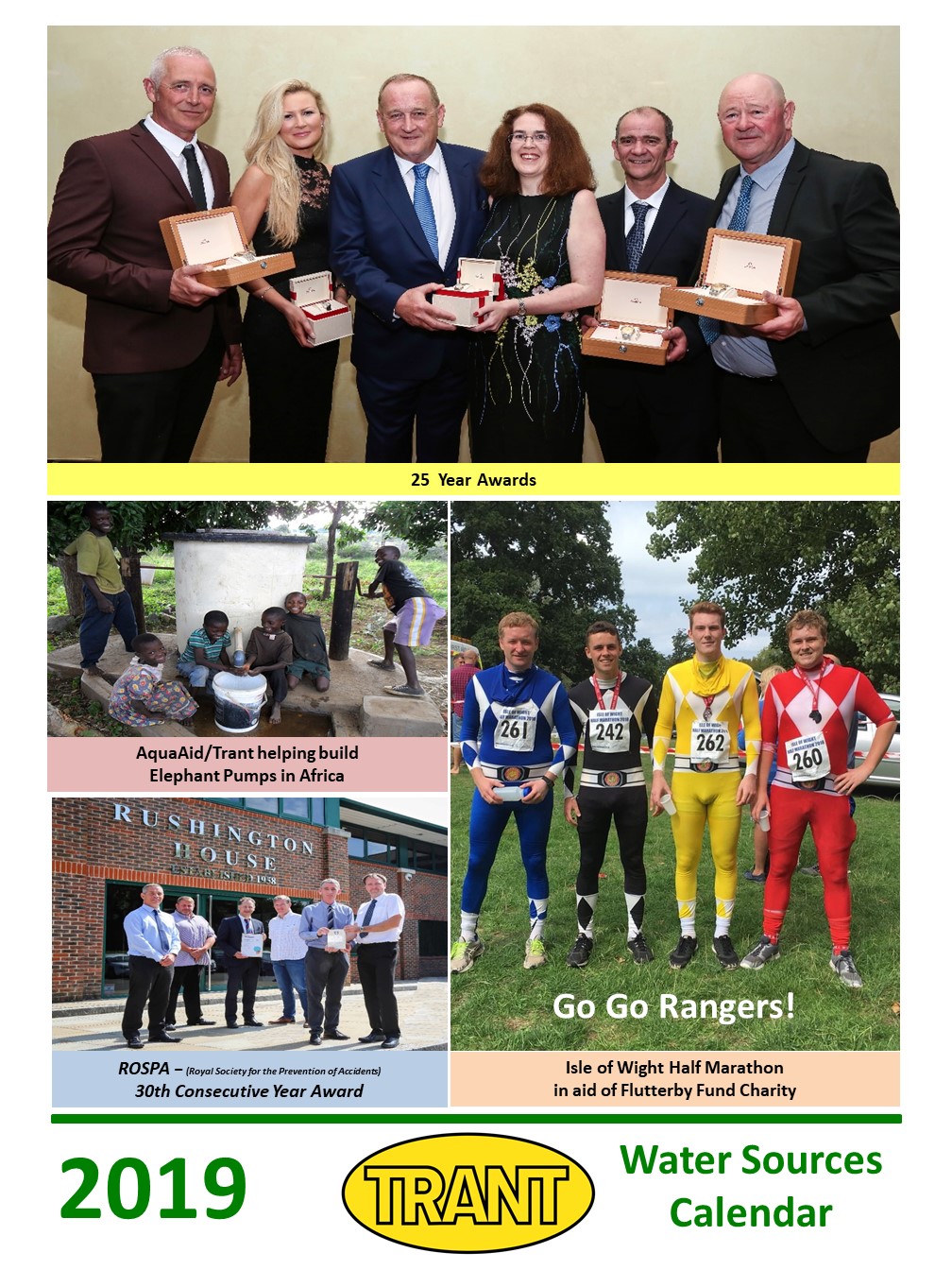 January 10, 2019
As Trant Engineering prepares to celebrate its 61st anniversary this summer, the company's 2019 calendar has captured the firm's expertise in water treatment processes.
The multi-disciplinary contractor provides high-quality services to the municipal and industrial process and water treatment markets in the UK and internationally.
Patrick Trant, Chairman, based at the company's headquarters near Southampton, Hampshire, said: "Our calendar is always well received by clients, staff and suppliers.
"This year, as Trant Engineering celebrates 61 years of trading, we felt it was fitting that this year's 'water sources' calendar reflected our work for clients in the water industry.
Optimal solutions
"We have more than 60 years' experience in the successful deliver of complex water, wastewater and process treatment solutions for the main UK process and water companies.
"Trant Engineering develops innovative, cutting-edge process and water solutions using advanced technology.
"Working closely with our technology partner, SFC Umwelttechnik, we are able to utilise proven advanced technology, resulting in optimal solutions for our water and process industry clients in the UK and internationally."
January depicts a snow-covered River Severn as part of Trant Engineering's work for Severn Trent Water, February shows Northumbrian Water's River Tees reflecting Infinity Bridge and March features a bridge over the River Dee for United Utilities.
Delivering excellence
Affinity Water's River Colne is the focus for April, Wessex Water's River Yeo for May and Southern Water's River Stour for June.
South West Water's River Fowey takes pride of place in July, with Yorkshire Water's River Ouse for August and Anglian Water's River Welland in September.
Welsh Water's River Wye graces October while The Iron Bridge over South Staff Water's River Severn in Shropshire takes the November spot.
Rounding off the year for December is Tower Bridge in London, with fireworks over Thames Water's River Thames.
Safety first
Trant Engineering is involved in delivering solutions for a range of complex engineering challenges, from design and manufacture to installation and commission.
Employing 1,100 people, the award-winning independent has a record number of long-term framework contracts, with a projected annual turnover of up to £150 million.
In 2018, Trant Engineering was awarded its 30th consecutive annual safety award by the Royal Society for the Prevention of Accidents (RoSPA): https://www.trant.co.uk/news/30th-consecutive-annual-safety-award-for-trant-engineering
Pictured at the top of the calendar's cover are, from left, Trant Engineering's 25-year service award recipients Warren Holmes, Kelly Jones, (Chairman Patrick Trant), Karen Greenwood, Eddie Ball and PJ Mahon. In 2018, the 'Fab Five' joined 127 employees with similar lengths of service.
We here at Trant Engineering wish you a happy, healthy, peaceful and prosperous 2019.